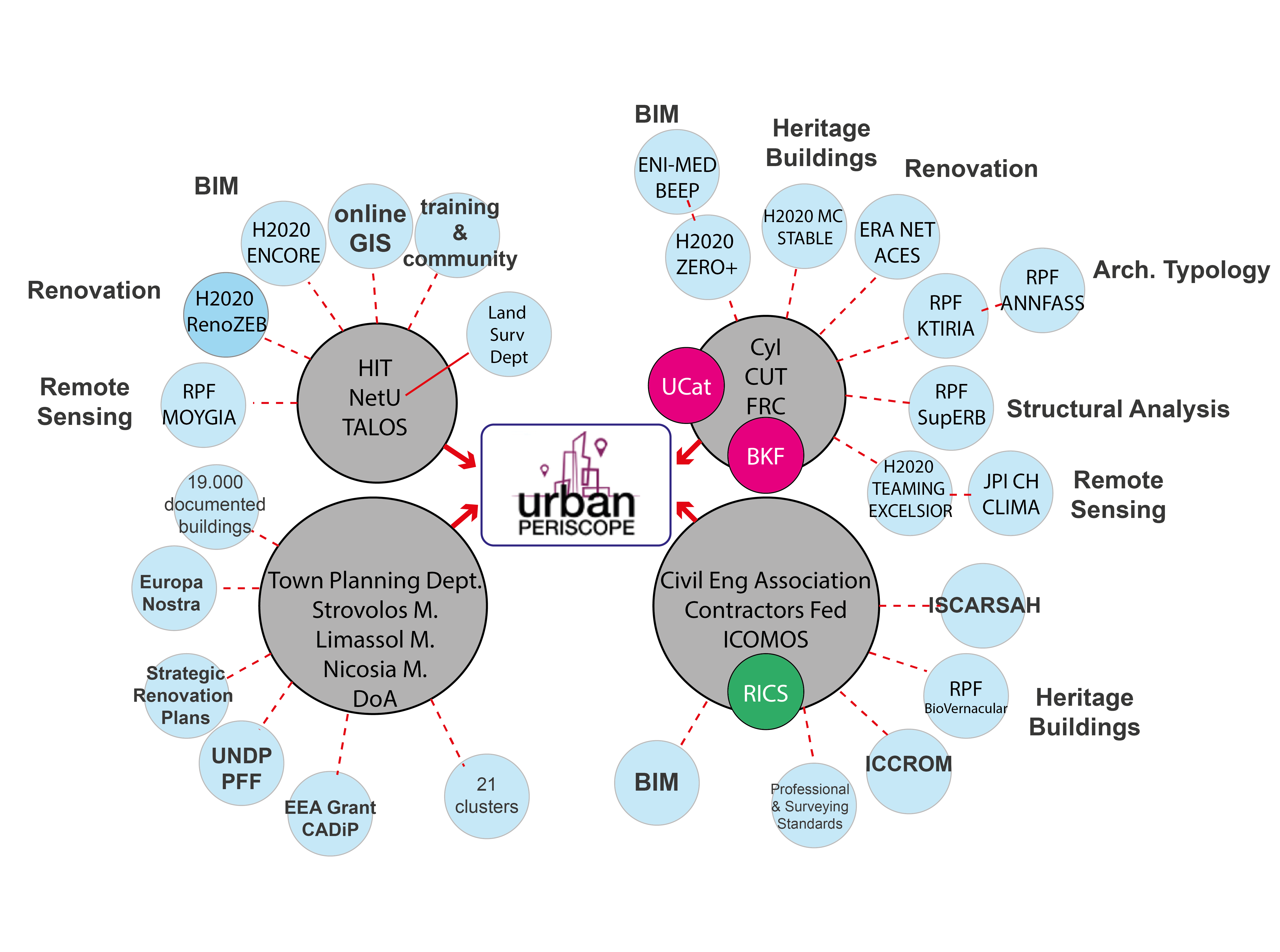 The Cyprus Institute (CyI)
The Cyprus Institute (www.cyi.ac.cy) is a non-profit research and educational institution of international composition, governed by a Board of Trustees comprising world-renown scientists and prominent political and entrepreneurial opinion-Leaders. The Institute thus possesses a novel philosophy on interdisciplinary research and education, and cutting-edge infrastructure to materialize it, which support a scientific, technological and innovative orientation aiming at world-class standards of excellence. Research at CyI is carried out in cross-disciplinary Centers that address problems of great scholarly relevance, global significance and regional focus. Shared infrastructures incorporating state-of-the-art technology support the research activities of the following CyI-Research-Centers that will contribute to the proposed project: Science and Technology in Archaeology and Culture Research Center (STARC). STARC is becoming the leading centre for Science and Technology Research in Archaeology and Cultural Heritage in the Eastern Mediterranean and the Middle East (EMME), adding value for its partners and stakeholders through cross-disciplinary cooperation and relevant, nationally and internationally recognized research. Computation-based Science and Technology Research Center (CaSToRC). CaSToRC pursues research in computational sciences and is developed in close collaboration with the National Center of Super Computing Applications of the University of Illinois and the Jülich Supercomputing Center (JFZ). CyI has a proven track record in highly competitive research funding, having participated in more than 100 national and European research projects.
Cyprus University of Technology (CUT)
The Cyprus University of Technology (CUT) is a public university founded in 2003, and one of the three state universities in Cyprus. CUT is a dynamic university with six leading schools/faculties and 10 academic departments, able to offer education and high-level research, in primary branches of science and applied technology both in Undergraduate and Postgraduate (MA, MSc, PhD) levels. The vision of the Department of Civil Engineering and Geomatics (CEG) is to develop a dynamic, stimulating and challenging environment for teaching and research of the highest international standard offering students the opportunity to develop a strong technical background, a clear appreciation of the practical significance of their subject area, as well as strong personal and professional attributes that will enable them to make a significant contribution within their profession. In addition, the Department aims to establish strong interactions with industry and government to provide students the opportunity to participate in current engineering and technology developments and work alongside with professionals through individual and team project work and professional training. The Remote Sensing and Geo-Environment Laboratory's (RS Lab) main research goal is the advance understanding of the Earth system sciences using remote sensing methods and engineering techniques. A primary mission of the RS Lab is to conduct both basic and applied research towards improved understanding, management, and monitoring of cultural heritage and archaeological research, and to offer expert services and products of excellent qualities in line with the latest development of remote sensing and related geospatial technologies or other high-tech tools. The Departmental and Lab infrastructure and its research capabilities are well fitted in the scope of the current project.


Frederick Research Center (FRC)
FRC is a leading research non-profit organization in Cyprus. The mission of FRC is the promotion of scientific research and the implementation of basic and applied research of in various domains, the consultation to individuals, business, organizations and the government, the coordination and par-ticipation in research projects and the establishment of collaborations with other national and inter-national research Centers, industries and universities for the execution of research work. The re-search initiatives and activities that are being carried out by its faculty, place the University among the most successful organisations in Cyprus with respect to the level of financial support received for research projects from local and European Union sources. In addition, through its active partici-pation in research, the FRC staff has developed closed collaboration with several public authorities, corporations, non- profit organizations, universities and other educational institutes in Cyprus and abroad. The Building Physics Lab of FRC has a range of appropriate equipment to actively contribute to the successful implementation of the proposed research project.


Fondazione Bruno Kessler (FBK)
Fondazione Bruno Kessler (FBK) was established in 1962 as a public research centre of the Auton-omous Province of Trento (Italy). FBK strives for scientific excellence, innovation and technology transfer to companies and public services. FBK has more than 350 researchers and developers working in the areas of Information Technology, Materials and Microsystems and Social Sciences. FBK acquires funds from EU calls (in FP7 it joined 72 projects, 14 as coordinator; in H2020 it joined 23 projects, 4 as coordinator), public tenders and private companies. FBK has launched more than 20 spin offs in the last 10 years and it is part of the European Institute of Innovation and Technology (EIT ICT Labs), being one of the seven co-location centres. FBK will join the project with its 3D Optical Metrology (3DOM – http://3dom.fbk.eu) research unit which has expertise in geospatial data and methodologies, reality-based 3D surveying and modelling, data and sensor integration, UAV, GIS, 3D model segmentation and web access. FBK-3DOM has a consolidated know-how acquired in the development of metrology and geospatial software and methodologies based on terrestrial, aerial and satellite photogrammetry as well as on triangulation and time-of-flight optical active sen-sors (e.g. laser scanners). The 3DOM research group is devoted to geo-referenced and geospatial data analyses, 3D monitoring and modelling of landscapes, sensor and data integrations, environ-mental change detection, man-made structures digital reconstruction, and more. 3DOM has in-house processing methodologies as well as commercial packages for the execution of the project tasks.
University of Catania, Italy
The University of Catania, one of the oldest universities in Italy, was founded in 1434. It has 20 departments, with more than 65,000 students who are trained by 1300 professors and supported by 1100 staff units. UCAT constantly participates at research programs at international and national levels, and it has a long-term involvement in different research programs, both as a coordinator and/or as a partner. UCAT takes part in many European programmes (H2020, Erasmus+, COST, ERA-NET, FP6, FP7, LIFE, INTERREG, ENPI) as well as various international initiatives supporting research and international mobility. As one of the biggest departments, Department Civil Engineering and Architecture has competencies in the areas of civil engineering and architecture, with more than 100 professors and researchers. It offers MD courses in Civil, Environmental and mechanical engineering, planning, architecture, along with a PhD course "Urban Risk Assessment and Mitigation". Staff involved in the project are part of a Department Lab ("Laboratorio per la Diagnostica dell'Architettura" – RDA) and specifically the section "Laboratory of Architectural Photogrammetry and Surveying" which operates in the field of architectural and urban 3D modeling and representation, 3D acquisition, BIM, Computational design, environmental and transportation analysis. RDA includes available technical equipment and facilities relevant to the project.
Ministry of Interior - Town Planning and Housing Department (TPH)
The Department of Town Planning and Housing (DTPH) is a government department under the Min-istry of the Interior, and its main scope of operation concerns urban and spatial planning. An im-portant part of its mission is the implementation of the Town and Country Planning Law. The Depart-ment is made up of three main Sections, those of Housing, Planning and Development Control. The Housing Section undertakes the planning, design and management of public housing, at present almost exclusively serving refugees displaced by the 1974 Turkish invasion. The Development Con-trol Section functions as the higher central Planning Authority of the country; it includes the Sectors of Plan Implementation and Planning Enforcement, and provides the administrative umbrella for five of the nation's nine independent Local Planning Authorities (District Offices). The Planning Section consists of various policy and project-oriented sectors, such as those of regional and transportation planning. The Department also includes the sectors of Planning Schemes and Architectural Heritage Preservation, as well as supporting administration, while it provides personnel and advice to the Nicosia Master Plan, a bi-communal institution involving both the Greek- and Turkish-Cypriot com-munities of the divided capital of Cyprus.


Municipality of Strovolos (MS)
The Municipality of Strovolos was established in 1986 and is the second largest Municipality in Cy-prus after Limassol, with a population of over 70.000 inhabitants. Strovolos is a city that covers an area of 25km 2 and is divided into six parishes. The Mayor of Strovolos has signed in 2009 the Covenant of Mayors which was prepared by the European Commission for reduction in CO2 emis-sions through enhanced energy efficiency and cleaner energy production and use. Ii this frame, the Municipality has conducted a Sustainable Energy Action Plan in which it established concrete actions to be implemented until 2020. In the domain of Save Energy, the Municipality of Strovolos has been participated as a beneficiary in the following programmes/projects: ISLE PACT-Pact of Islands; ME-DEEA ‐ Establishing the European Energy Award (eea®) in the Mediterranean Countries; ELIH-Med - Energy Efficiency in Low Income Housing in the Mediterranean ; Serpente- Surpassing Energy Targets through Efficient Public Buildings; Horizon 2020-Happen project.


Limassol Municipality (LM)
The city of Limassol is an important center of commerce, industry, tourism and services and Europe's gate to the east and south-eastern edge of the Mediterranean. A large number of internationally-renowned companies are active in or from Limassol in the sectors of ship management services, commerce, marketing, consultancy services, banking and others. The presence of shipping, is of particular importance thanks to which Limassol is now considered to be one of the world's largest ship management centers and the largest in the European Union. Limassol has the largest commer-cial and tourist port in Cyprus and is home to a considerable number of commercial companies, traditional and modern, and is essentially the city where Cypriot industry began many decades ago. Limassol Port is the most important on the island and almost all country's imports and exports are moved through the port; it also attracts large cruise ships sailing to and from the Middle East and Europe. Since the entrance of Cyprus in the European Union in 2004, many projects have been developed in the city of Limassol both by the public and private sector in urban and tourism infra-structure, including the redevelopment of the city center, the construction of Limassol marina and a number of renovation, reconstruction and regeneration projects most of which were co-funded by EU structural funds and other EU initiatives. The city of Limassol is planning for 'smart' and sustain-able development and change, and progressing towards Europe 2020 objectives, through coopera-tion with the countries of Europe and the broader Mediterranean region.

HIT HYPERTECH INNOVATIONS
HIT HYPERTECH INNOVATIONS (HIT) is a Cyprus-based Web, Mobile and VR applications pro-vider and IT integrator SME founded in 2016. HIT builds on top of the 20-year experience of a team of researchers, software engineers and IT professionals. Before the recent establishment of HIT, this team has led and implemented multiple industrial software development and integration projects as well as numerous national and European collaborative research and development projects. HIT is focusing on the development and offering of solutions in the indicative areas of ● Mobile and web development and integration ● Data analytics and visualization ● 3D modeling and virtual reality ● Digital marketing and communication. In addition, HIT offers extensive consulting services in the field of IT Technology, and dissemination and exploitation of R&D project results. Based on the long experience of its personnel, the company provides a portfolio of support services, including ● Technology scouting and licensing in ● Research and development results' commercialization, licensing out and marketing ● Spinning out new technology-driven ventures ● Cross-cutting services: business planning and modelling, strategic plans, feasibility studies, market analysis, impact analysis and as-sessment.


NetU Consultants Ltd
NetU Consultants Ltd (NetU) is a leading IT solutions and services organization in the Eastern Med-iterranean region with offices in Cyprus, Greece and Serbia. NetU's primary business focus includes Business Solutions (ERP, CRM and selected vertical solutions), Technology Solutions (Integration, Data, Software, Infrastructure and Mobility), Professional Services (project management, software development, implementation, consulting, technical services, training, maintenance & support) and Total Solutions where we adopt a holistic Systems Integration approach which facilitates the delivery of Total Solutions from a single-reliable point of contact, by combining Professional Services with Business and/or Technology Solutions. NetU has an extensive experience in the implementation and the management of large size, mission critical Information Technology projects for medium to large organizations in Cyprus and abroad. Examples of projects includes the Cyprus Police Infor-mation System, the Schengen II Information System for Cyprus, Greece and Croatia, the Financial Information & Management System for the Treasury Department of the Government of Cyprus, the Social Insurance System, the Public Employment Service System for the Ministry of Labour and the Social Insurance of the Government of Cyprus, the Internet Portal of the Department of Lands & Surveys, the Town Planning System and the Asylum System for the Ministry of Interior of the Re-public of Cyprus and many more. NetU specialized expertise includes project management, software development, platforms implementation, databases and GIS for large and complex systems, which are relevant to the scope of this project and maintains a large pool of specialized and certified Project Managers, Systems Analysts, Software Developers, Database Administrators, Systems Engineers and GIS Experts.


RTD Talos Ltd
TALOS is an SME offering high quality services in the field of project management both in European and national level. TALOS has years of demonstrated experience in project management being in-volved since its foundation in more than 60 European research projects and having taken the re-sponsibility for managing administrative and financial tasks, reporting, maintenance of agreements between the consortium members and handling overall legal, ethical, financial and administrative issues. TALOS is an expert in exploiting and disseminating project results and has prepared numer-ous successful Exploitation Agreements with special emphasis on proper IPR management among the partners. Talos is coordinating the H2020 project entitled ENergy aware BIM Cloud Platform in a COst-effective Building REnovation Context (ENCORE) which aims to increase the share of reno-vated stock in Europe and worldwide by providing effective and affordable BIM tools that cover the whole renovation life-cycle (from data collection to project execution, and commissioning/delivery). Additionally, TALOS is the Coordinator of the Cyprus Business Angels Network (CyBAN, a full mem-ber of the European Business Angels Network) which is the only Angel Investment Network in Cy-prus. CyBAN reviews up to 100 businesses per year to find the most exciting and cutting edge com-panies. Being the coordinator of Cyprus Business Angels Network, TALOS maintains strong con-nections with the SME ecosystem and investor community in Europe. TALOS is also the co-founder of ERMIS Research & Incubator Center with numerous success stories of incubated start-up com-panies. TALOS has also operated the Research and Technological Development Unit as part of the Cypriot branch of the Enterprise Europe Network during the financial framework period 2007-2013. TALOS' role focused on helping SMEs to create their business profiles and develop their ideas into effective project proposals. In doing so, TALOS worked closely with the Cyprus Chamber of Com-merce and Industry as well as with the Research Promotion Foundation which operated the Infor-mation and Knowledge Transfer Unit respectively.